4 days ago
Will I Need Oxygen Therapy?
Each year thousands of individuals in the United States are diagnosed with Chronic Obstructive Pulmonary Disease (COPD), especially cigarette smokers. Many of these individuals will be prescribed oxygen therapy by their physician. As the population of the United States continues to age, more and more people are going to be required to use supplemental oxygen. COPD has several common signs and symptoms to alert individuals that they may have a respiratory problem. Some of the most common COPD warning signs are:

* Dyspnea (shortness of breath)

* Chronic cough

* Wheezing

* Hemoptysis (coughing up blood)

* Ankle swelling

* Unexplained weight loss or weight gain

* Confusion, slurring of speech

* Increasing morning headaches

COPD is a disease that progresses slowly and causes many changes to occur in the lungs. Narrowing of the airways and damage to the lung tissue are common occurrences for COPD patients. As the disease worsens, the lungs performance deteriorates, requiring the need for supplemental oxygen to make up for what your lungs are no longer able to do. COPD related inflammation destroys tissue in the lungs which reduce transportation of oxygen to the cells of the lungs and the transportation of carbon dioxide back out of the cells. The inflammation makes it harder for blood to get into the lungs, lowering the oxygen levels in the blood, which may result in pulmonary hypertension. The symptoms of pulmonary hypertension are shortness of breath, dizziness and fatigue.

If you exhibit some or all of these symptoms, you should see your physician immediately. The primary method used for diagnosing COPD is called spirometry. This procedure is a simple breathing test that measures airflow out of the lungs. If the amount of air you breathe out (forced expiratory volume) is reduced, this is a common diagnosis of COPD. Another method used to test blood oxygen levels is using a blood gas syringe to draw blood from an artery and send the blood through an analyzer to determine the level of oxygen. Although effective, this is a much more invasive procedure than spirometry.

Many patients ask "Will oxygen therapy cure my COPD?" The answer is no. Receiving supplemental oxygen helps your damaged lungs to do what they can no longer manage on their own. Receiving oxygen does not remedy your underlying lung disease. Long-term oxygen therapy should improve your quality of life. You should experience less instances of shortness of breath and feel increased energy levels. Oxygen therapy may also improve mental clarity and kidney function that can be impaired by low levels of oxygen in the blood. The majority of COPD patients are former smokers. If you are a smoker and continue to smoke, you may not benefit much from oxygen therapy.

By: Chuck Jaymes

Article Directory: http://www.articledashboard.com

About the Author - Chuck Jaymes is an indoor air quality professional for

Oxygen Concentrator and

offers reviews and information about

Inogen One Portable Oxygen Concentrators

for OscarAir, Inc.

http://www.articledashboard.com/Article/Will-I-Need-Oxygen-Therapy/233829
5 days ago
From Wikipedia, the free encyclopedia

An oxygen concentrator is a device which concentrates the oxygen from a gas supply (typically ambient air) to supply an oxygen-enriched gas stream.

Contents

1 History

2 How oxygen concentrators work

3 Applications

3.1 Portable oxygen concentrators

3.2 Military uses

3.3 Alternate applications

4 Safety

5 Industrial oxygen concentrators

6 See also

7 Notes

8 External links

History

Home medical oxygen concentrators were invented in the early-1970s. Manufacturing output of these devices increased in the late 1970s. Union Carbide Corporation (UCC) and Bendix
1 week ago
Researchers Develop Transparent Solar Concentrator That Could Cover Windows, Electronics


Scientists at Michigan State University announced this week the creation of a "transparent luminescent solar concentrator" that could turn windows and even cellphone screens into solar-power generators.




This technology could mean that one day entire skyscrapers might be able to generate solar power without blocking out light or ruining tenants' views.

The material works by absorbing light in the invisible spectrum (ultraviolet and near infrared) and then re-emitting it in the infrared. The infrared light is then channeled to the edge of the clear surface, where thin strips of photovoltaic cells generate the power.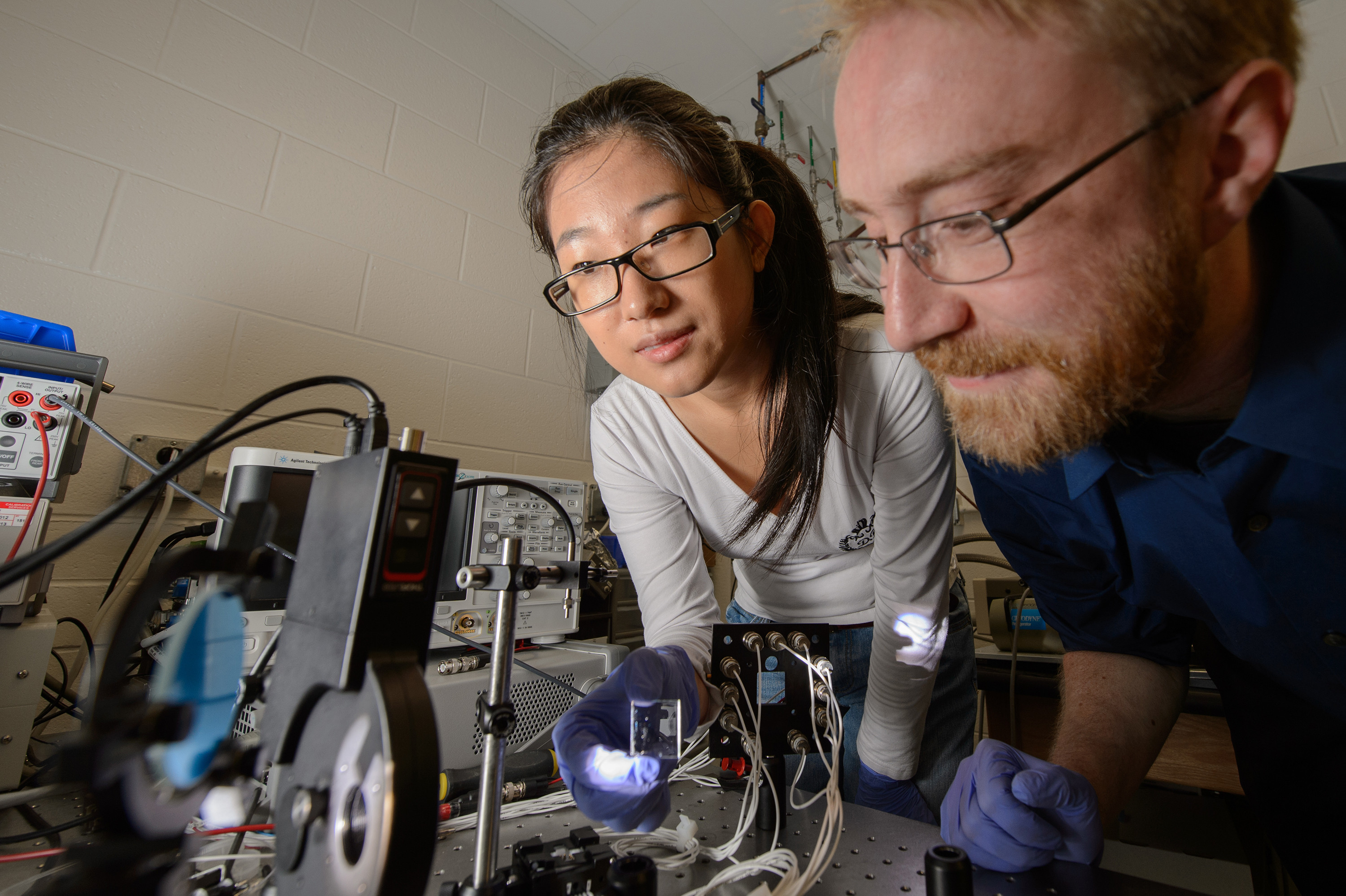 Yimu Zhao, a doctoral student in chemical engineering and materials science, and Richard Lunt, assistant professor of chemical engineering and materials science, run a test in Lunt's lab. Lunt and his team have developed a new material that can be placed over windows and create solar energy. Photo by G.L. Kohuth

Because we cannot see infrared or ultraviolet light, the material remains transparent even while concentrating sunlight. Previous luminescent solar concentrators have been developed, but they emitted light in the visible spectrum, creating a stained-glass effect.

"No one wants to sit behind colored glass," Richard Lunt, who leads the lab researching this new technology, said in a press release. He likened the experience to "working in a disco."

The new technology is promising, but needs to be made more efficient. Researchers say that the solar conversion efficiency is around one percent. Ideally, this could be increased to more than five percent. The researchers note that the highest conversion efficiency achieved by a non-transparent luminescent solar concentrator is about seven percent.

According to the National Renewable Energy Laboratory, solar technologies can have efficiencies ranging from eight percent to almost 45 percent, depending on the particular properties desired. A conventional panel like the kind typically installed on home rooftops has an efficiency of around 15 percent.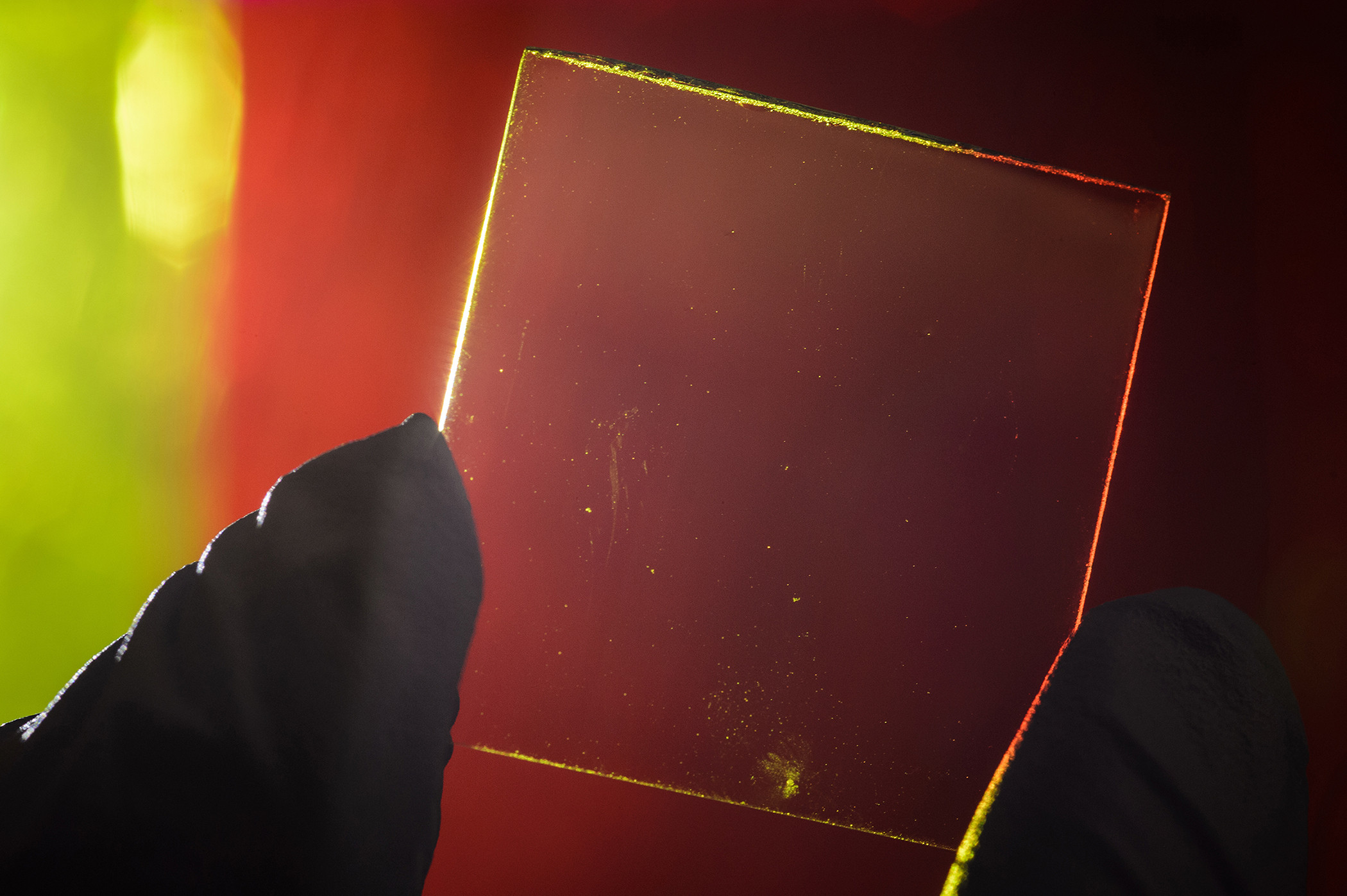 A transparent luminescent solar concentrator waveguide is shown with colorful traditional luminescent solar concentrators in the background. The new LSC can create solar energy but is not visible on windows or other clear surfaces. Photo by G.L. Kohuth

Luminescent solar concentrators are less efficient than traditional photovoltaics, which absorb a larger range of wavelengths, but http://ecomed.co.za/99-portable-oxygen-concentrators/ they could allow energy harvesting on surfaces that would otherwise never be used to generate power.

Rumors surfaced earlier this year that Apple's iPhone 6 will include a different type of solar screen, but you may not want to get your hopes up just yet. Forbes contributor Nigam Arora wrote in January that the technology is not quite ready. A "screen with a laminate of film containing solar cells is likely in iPhone 7 but not in iPhone 6."

The transparent technology could be used in a variety of applications, Lunt said, and its affordability means it has the potential for eventual commercial or industrial use. "Ultimately we want to make solar harvesting surfaces that you do not even know are there," he said. The researchers' findings were published in the journal Advanced Optical Materials in July.

Photos and captions courtesy of Michigan State University.

CORRECTION: A previous version of this story attributed the innovation to researchers at the University of Michigan.


1 week ago
Oxygen Education & COPD Blog




What is Interstitial Lung Disease?



Post by Inogen



No Comments |

June 9, 2017





The term interstitial lung disease (ILD) refers to a broad range of progressive lung disorders characterized by inflammation and scarring of the lungs. Interstitial lung diseases affect the interstitium, the lace-like network of tissue between and supporting the microscopic alveoli (air sacs). The interstitium is filled with tiny blood vessels that allow for gas exchange [...]



View Article





Is Bronchitis Contagious?



Post by Inogen



No Comments |

June 1
2 weeks ago
Mother kicked off Frontier flight over sick son's oxygen tank
A Las Vegas mother claims she was kicked off a flight to Orlando for bringing a portable oxygen tank onboard to be used by her infant son.

Yamile Quintero, who says her son Roman suffers from a heart murmur and has a chronic lung disease which makes it difficult for him to breathe, says she called Frontier before flying to confirm that the type of tank she had was acceptable.

"I asked and they were like, 'Yeah, as long as it's portable oxygen, you're fine. You can get on the plane," she told KSNV.

Quintero had planned to fly to Orlando to visit family over Mother's Day weekend and this was her first time bringing Roman on a plane.

But after boarding the aircraft, Quintero says a flight attendant told her she was not able to fly with the oxygen tank and was asked to disembark.

The FAA allows some portable oxygen tanks, but can also require a note from a doctor-- something Quintero was not aware of. Frontier's website also has a list of FAA approved oxygen concentrators, but the mother said she thought she had gone through the proper channels to verify that her son would have what he needed to fly.




A Frontier Airlines spokesperson told local station KRTK that Quintero needed an FAA-approved oxygen concentrator which is different from a tank.

Richard Oliver, a Frontier Airlines representative, said, "Our agent responded and said yes portable oxygen is allowed on the plane and continues to say that if you want to make sure your device is allowed on the plane, you can check out website."

Quintero says she was still "humiliated" by the ordeal.

"I did all the proper protocols. I called, I double checked at the door, I double checked at the gate, I double checked everywhere. I called and I did everything. I followed all the procedures and I'm getting kicked off the plane like I'm some type of criminal," she said.

"Multiple times I stated it was a portable oxygen tank. And they said it was fine, and it wasn't. And they kicked me off the plane for it and humiliated me."

Oliver said the airline apologized to Quintero and offered her son an approved oxygen concentrator. "We do certainly apologize for the confusion that occurred at the airport."

Though she did eventually make it to Orlando, the mother wasn't satisfied with the airline's response.

"They took my first Mother's Day away from me."

http://www.foxnews.com/travel/2016/05/12/mother-kicked-off-frontier-flight-over-sons-oxygen-tank.html


2 weeks ago
Inogen Inc (INGN.O) Company Profile
Inogen, Inc., incorporated on November 27, 2001, is a medical technology company. The Company develops, manufactures and markets portable oxygen concentrators used to deliver supplemental long-term oxygen therapy to patients suffering from chronic respiratory conditions. The Company's Inogen One systems concentrate the air around the patient to offer a single source of supplemental oxygen anytime, anywhere with a portable device. Its three portable product offerings, the Inogen One G4, Inogen One G3 and Inogen One G2, at approximately 2.8, 4.8 and 7.0 pounds with a single battery, respectively. Its Inogen One G4, Inogen One G3 and Inogen One G2 are sub-3, sub-5 and sub-10 pound portable oxygen concentrators, respectively. All of its Inogen One systems are equipped with Intelligent Delivery Technology. The Inogen At Home stationary oxygen concentrator allows it to access the non-ambulatory oxygen patient market and serves as a backup to its Inogen One system for ambulatory patients on its rental service.

In the United States, the Company markets and distributes its products directly to consumers. In the United States and in Europe, the Asia-Pacific region, Latin America, the Middle East, and Africa, the Company sells to resellers and traditional homecare providers that choose to resell its products to oxygen therapy patients. It also sells to traditional homecare providers that offer its products to patients through insurance. The Company sells its products to home medical equipment providers in the United States and in foreign countries on a credit basis. As of December 31, 2016, the Company sold its products in 45 countries outside the United States through distributors or directly to large house accounts, which include gas companies and home oxygen providers.

The Company competes with Invacare Corporation, Koninklijke Philips N.V., Chart Industries, Inc., ResMed Inc., Drive Medical, O2 Concepts, Precision Medical, Gas Control Equipment, Linde Group, Apria Healthcare, Inc. and Rotech Healthcare, Inc.


2 weeks ago
Government-subsidized Essential Air Service is waste of taxpayer money, some say
The Essential Air Service (EAS) program began in 1978 to ensure commercial flights to small and remote communities. There are more than 100 different routes under the program today, and most of them offer multiple flights each day, but in many cases, the planes are virtually empty.

The cost to taxpayers for subsidizing those journeys has quadrupled in the last decade to a whopping $261 million, which has some lawmakers convinced the program is anything but essential, reports CBS News' Kris Van Cleave.

A 50-seat commercial jet leaves Denver twice daily for two remote North Dakota towns. When CBS News flew to Devils Lake, North Dakota, last week, a town with a population of 7,200, there were rows of empty seats and only four other passengers.

The Department of Transportation shells out over $6 million a year to fund that route, one of 113 in the lower 48 states servicing rural communities like Devils Lake.

Passenger Mark Zimmer said it saves him about two hours of travel time each way.

"Parking is a lot easier here and lot closer for me to come here than go to Grand Forks," Zimmer said.

Devils Lake mayor Dick Johnson said the flights attract business and he estimates they help inject $10 million a year into the local economy.

"Our numbers are starting to go up; It's key to our cities," Johnson said. "I think small rural communities are a major part of our country and to keep them viable, to keep them functional, to keep them a viable community, sometimes you need to have help from the big communities."

"The Essential Air Service is really a relic of deregulation, airline deregulation, back in the 70s," according to Taxpayers for Common Sense vice president Steve Ellis. He believes convenience hardly makes the flights a necessity.

"We shouldn't be spending hundreds of millions just to make things a little easier for a few people to actually get to the airport," Ellis said.

Government data shows that on average last year, 44 of the 113 routes flew at least two thirds empty; among them, flights to Devils Lake.

One 9-seat Cessna flies twice daily from Kansas City, Missouri, to Great Bend, Kansas. The government kicks in $1.4 million each year, even though there is usually just one passenger on board.

Another $2.5 million per year goes to maintain near-empty daily flights to and from Lancaster, Pennsylvania, even though it's just a 40 mile drive to the larger Harrisburg airport that serves the same routes.

"The fact of the matter is the amount of money this program is costing us has doubled in four years," Rep. Tom McClintock, R-California said.

He has been trying to ground the Essential Air Service program since 2011.

"I view this as the canary in the coal mine. If we can't cut this, perhaps the least essential of all government subsidies, how are we ever going to get spending under control?" McClintock said.

A small amount of the subsidy pays for flights within Alaska and Hawaii. Congress is expected to debate the entire program this fall when it votes on the FAA Reauthorization Act. If it eliminates EAS and flights to Devils Lake, the only way to get there will be to fly to Grand Forks, North Dakota, and drive 90 miles.




2015 CBS Interactive Inc. All Rights Reserved.